Set of Victorian Tracheotomy Instruments.
---
Set of Victorian Tracheotomy Instruments.
£75.00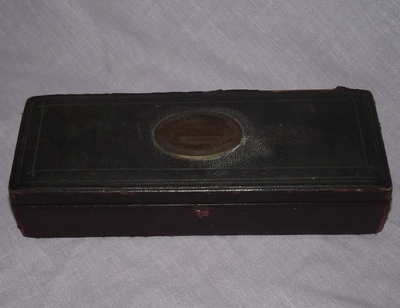 Set of Victorian Tracheotomy Instruments.
Description – cased set of Victorian tracheotomy instruments. Leather covered case, with green material lined inner. Two hooked instruments, which have dark wood (probably ebony) handles, are present, unfortunately one is missing as the fitted case has room for three. Three tubes in case, two tubes are complete but one is missing the centre part. We are calling the tubes white metal, however, although they are not marked we strongly believe them to be silver.
Made by Gardner, Edinburgh.
Case measures 7 ½ inches (190mm) x 2 ¾ inches (70mm) x 1 ½ inches (40mm).
On the top of the case is a presentation plate, which reads;
School of Medicine Edinburgh.
Surgery Session 1889-90.
2nd Prize Senior C .C Douglas.
F M Caird Lecturer.
Date – Late 19th Century, Victorian.
Condition – obviously not been used for many a year, and will never be used again, exterior of box is worn, lined inner is pretty straight and tidy, tubes are nice and clean, hooked instruments are again pretty good, but do have some signs of rust.