Antique Folding Lorgnettes.
---
Antique Folding Lorgnettes.
£35.00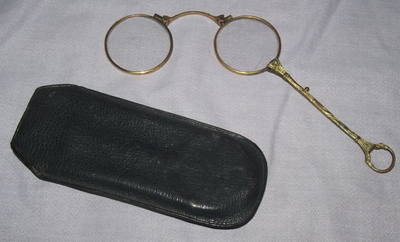 Super pair of folding lorgnettes/reading glasses.
Date – late Victorian/early Edwardian.
Beautifully decorated.
Sprung loaded, just pull the little catch down on the handle and they ping open.
Slightly magnified lenses, so when closed they can be used as a magnifying glass.
Slight gold content, underneath the nose bar they are stamped "1/20 12ct".
Measure – 5 ¼ inches (13.4cms) long when closed. Lenses are 1½ inches (3.8cms) each in diameter.
Also come with period leather pouch.