1968 Mexico Olympics 25 Pesos Silver Coin.
---
1968 Mexico Olympics 25 Pesos Silver Coin.
£15.00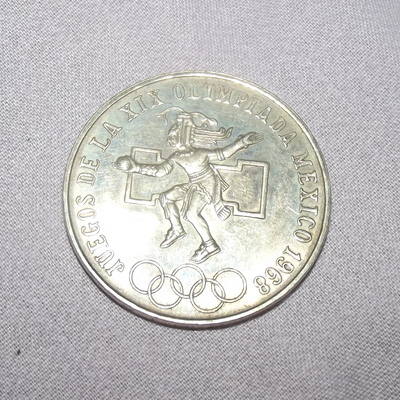 1968 Mexican Olympic Commemorative Silver Coin.
25 Pesos.
Coin diameter – 1 ½ inches (38mm).
Weight - 22.5 grams.
The composition of the coin is .720 fine silver. The mint mark is the letter 'M' with a small 'o' that is above this 'M'.
The obverse side features the Mexican coat-of-arms and an eagle with a snake in its mouth that faces left. It has the following inscription: "25 Estados Unidos Mexicanos 25 Pesos Ley 0.720". The artist was Ricardo Vasco.
The reverse side of the coin features the Olympic Rings that sit below an Aztec native who is dancing. The background features a numeral design. It has "Juegos De La XIX Olimpiada Mexico 1968" imprinted on it. The artist was Lorenzo Rafael.
The edging features incused lettering that reads "Independencia y Libertad".
Back in the 14th century, people were told by a certain Aztec priest that if they saw a snake in the mouth of an eagle sitting on a cactus then that is where a city would have to be built. That city would be called Mexico City.